###UPDATE
This was the READ ME for the first OSCEdays Berlin Event 2015. It was closed and archived in October 2015. The new READ ME is here.
---
(Deutsche Version mit Stand vom 28. April unten)
Hi,
this is the READ ME for local OSCEdays Berlin Event 2015. It tells you how we develop the event, who we are and how you can join us.
Most people in the team speak German, so don't hesitate to post in German.
#Who we are?
The Berlin team is currently:
@Lars2i Lars Zimmermann [Overview, Community Management, +], @cameralibre Sam Muirhead [Tech, Documentation, +], @Alice_audrey Alice Audrey Grindhammer [Industry & Grassroots Connector Waste, Sponsorship Relations, +], @Anna_Perrottet Anna Perrottet [Head of Communications/Press Relations], @transitionmica Maike Majewski, @sophia Sophia Opperskalski [Circular Textile Organizer], @Frans Frans Prins [Circular Textile Organizer], @Justine Justine Tavernier, @MiriamR Miriam Rebsamen, @Ina Ina Budde, @matthias Matthias Schwer, @eliana Eliana López Gherardi, @Timm Timm Wille, @MartinaSkender Martina Skender, @JuliaP Julia, @kunji Kunji Bearwald, @simonlee Simon Lee, @Sylke Sylke Freudenthal
& You ?
We are happy to welcome you on board.
#How to Join us?
1 - The first thing to do is sign up to this forum and study the Berlin category. See what is going on already. This will give you a good start. Also read about "What the Berlin Event will look like" below.
2 - Join a Team! The organization of the Berlin event is managed by different Teams focussing on specific tasks. Each team has a subtopic in the forum. There you can join this teams. Start to contribute to them as you see fit. This is the best way to introduce yourself and your motivations to the team.
3 - Attend a meeting. There might be an upcoming meeting here in Berlin. All meetings are announced in the forum. Meet us there.
4 - Still don't know where to start or have a different idea? Get in touch with Lars @Lars2i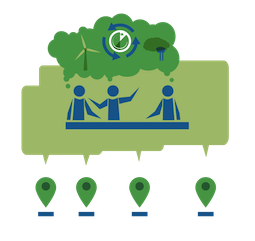 #Teams & Tasks
The organization of the OSCEdays in Berlin is devided into 5 Teams. Click on the links to see how to join the teams.
CHALLENGE CURATING TEAM
Finding, curating and organizing challengers and participants.
COMMUNICATIONS
Announcing the event, organize the press conference etc.
LOCATION & TECH
Managing the location, getting all necessary technical equipment.
FUNDING & SPONSORSHIP
Find funding and sponsors.
DOCUMENTATION (link soon)
Document the event.
###Challenge related Teams
CIRCULAR TEXTILE CHALLENGES
a collection of challenges around textiles and fashion
#Regular Meetings
There will be some meetings in the *atom-*world, but not too many. We plan to do a lot of the work online using this forum. But there will be some. Just sign up to the forum and subscribe to this category and you'll receive a notification about upcoming meetings.
You can also create a new public meeting anytime, for example to meet in a smaller group to focus on a particular task. But be very specific about what the meeting is for to let people know, if they should join or not. Add "[Meeting, DATE]" in front of your topic title.
###Meeting list & Records
#Resources & Links
You can find our collaboration documents in our OSCEdays Berlin cloud folder. To add or edit documents and folders, just send a direct message to Sam for a login.
Please let us know what you think of OSCE or the Berlin OSCEdays event:
https://pad.oscedays.org/p/berlin_feedback
###Important Links
CALL for Challenges & Challenger
CALL for Participants (Tickets)
OSCEdays Berlin Facebook-Event
#What will the Berlin event look like?
###Dates
The Berlin event will start on Thursday June 11 and end on Monday June 15 (full five days).
###Venue
The venue will be Agora. So we have space for 150 people. The goal is to create an interesting mix of industry people, grassroots, scientists, hackers and makers. We want to have challenges from many different fields, including on-site prototyping.
Alongside Agora, we're also playing with the idea of satellite locations around Agora – like some nearby co-working spaces or workshops, or the Tempelhofer Feld.
###Tickets - Participants and Challenges
The tickets will be free of charge but people have to apply (if you join the team you will be in of course). Take a look at our Call For Participants - and help to spread it.
We also published a Call For Challenge®s. Have a look and help to spread it. Thank you.
###What else?
An important part of the Berlin event will be the Circular Textiles Challenge(s).
We plan on having a press conference at the beginning, and at the end of the event. You can find a link and also to all the challenges in the Berlin Program.
###Questions?
Do you have questions or suggestions for the Berlin event? Take a look around in the Berlin category and if you can't find the anser, please post your question here in this thread or as a new topic in the Berlin category.
View Larger Map
_
This post is a wiki, please edit it to add your name, a link to your user profile and the thing you are working on.