At an event like OSCEdays Berlin people need to eat and drink. We tried to come up with sustainable and circular solutions for this. Here is what we came up with plus some explanations of our sometimes unusual choices.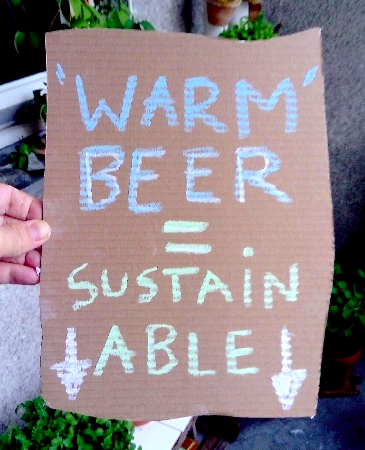 'Warm' Beer
We will have rescued beer for you on all evenings bought from SirPlus. But there is no fridge at the venue. We could have ordered one. But we decided not to. Because: transporting a large fridge through the city, plug it in, wait till it is cold, cooling so many drinks … how much energy would this cost how much emissions would this produce! Ice cold drinks are only in rare cases part of a sustainable world.
Beer has also more taste when it is not ice-cold but has room temperature. This is how sustainability tastes. And the majority of it will be consumed Thursday evening at an event called sustainability drinks.


Snacks –
@Rett-O-Mat
There is an automat at the campus where you can get rescued food from Sirplus for little money. More about that you can read here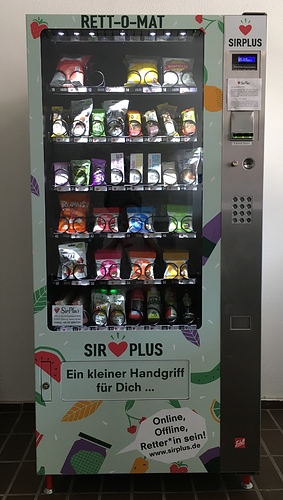 Coffee
There are several sources for coffee at the venue. Your main source on Friday and Saturday will probably be the "Cafe im Wasserturm" which is 150 meters away from the heart of our event. But you will be happy to hear that they use cups from Recup for your cup to go – this is deposit cups! No waste produced. This is your chance to use the system, maybe for the first time.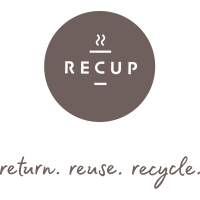 Water station
Like in a marathon we will have water stations with a bunch of reusable cups. We ask you to drink right there – water is for free – and wash your cup afterwards for the next person. This requires only a small modification to your normal behaviour but makes a huge effect on the sustainability of the event. This makes also a good spot to meet new friends.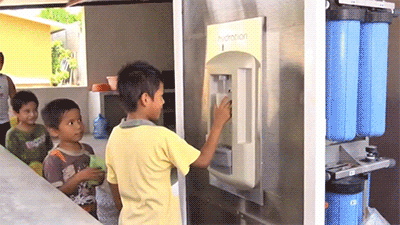 Lunch
Sustainability/Circularity also means to use local resources. Therefor we decided to not bring extra catering to the venue but to use the existing infrastructure.
On THURSDAY and FRIDAY there are three restaurants open at the campus: The Schmiede (Restaurant food), Bamboo Bay (Asian food), Werkstatt (Street food like burgers).
On SATURDAY the Cafe im Wasserturm is open. They will not have large and heavy meals but enough for us to survive a couple of hours on a warm summer day. If you are extra hungry you can alway use the RETT-O-MAT or bring something.
The EUREF Campus works hard to be a flagship of sustainability in Berlin. Therefor all these restaurants use sustainable principles in their kitchen – like cooking with regional and seasonable things for example.



Do you like our choices? Do you want to add something? Let's hear it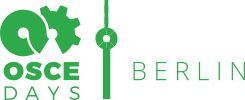 ---
Images in this topic: 'warm beer = sustainable', by Lars Zimmermann, CC-BY | RETT-O-MAT by SirPlus Annouk CC-BY-SA | GIF by giphy – unkown license