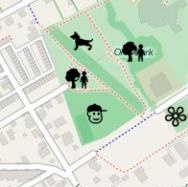 ##Wer sind wir / Who are we
We are experts joining forces with CRCLR Lab and OSCEdays
##Kurzbeschreibung / Short Description
Berlin is a city with many activities and initiatives around Circular Economy. However, we have noticed that there is no central database gathering and picturing them all in an easy to find tool.
We thought that it would be a great idea to create a flexible, good looking and easy to find online Circular Map in English that would picture all circular initiatives in Berlin!
For this reason, we are organizing two sessions on two sequential days. On the first day (July 1st) we brainstorm on WHAT we are going to map and on the second day (July 2nd) we run a Crowd-sourcing data collection of circular initiatives in Berlin.
To this end, on Sunday 2nd July we will be running an open platform, inviting the visitors of OSCE days to contribute with their knowledge to the collection of circular initiatives, business, collectives that should be on the Circular Map of Berlin.
Do you know a little repair shop in your neighborhood that runs based on Circular principles?
Or do you know a new start-up business that promotes circularity in Berlin?
Stop by our stand, enrich the Circular database, and let's map together the new Circular Map of Berlin!
Looking forward to joining forces on this endeavor!
Ilektra
##Wann / When
Sunday July 2nd, whole day, at the space of Agora
####Related