OSCEdays is about coming together to learn, discuss but also to build and create things – like tangible prototypes or Action plans. A CHALLENGE in the OSCEdays is a project or problem work on during the days. It can be all kinds of things. You can work on them in an already existing group or use the event to invite new people. Below you can find some possible ways to structure challenges.
Your challenge might be really great when you find a way to structure it that the outcomes directly benefit your project or company. Learn more about the below.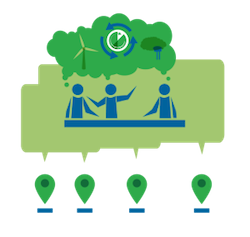 ##Brainstoming/Kick-Off-Discussion
Do you have an interesting, unexplored question or problem for example around a "service" innovation, a "supply chain" innovation, "logistics" innovation, a "communication" innovation or a "hardware", "software" or "design" innovation, that hasn't even been discussed? Sit down and start. The goal could be to find further questions for investiagtion, or an idea, or even fully-fledged action plan or model to start working on. The outcome could be short document describing your findings or even a quick and illustrative prototype made with cardboard.
Tag: discussion
##Prototyping
Do you already have a great idea for a service, system, software or hardware solution? Start (or continue) prototyping! Use the OSCEdays platform to show people what you are doing, ask for help and invite them to join you.
Tag: prototyping
##Building & Implementation
If there is already a good practice, solution or plan developed, the challenge might be to implement it, for example in a local neighbourhood, factory, project or community. Form a group and swarm out to the city to talk to shop-owners. Or have an action-day to build more content for your project. Or do extended betatesting. Or build more copies of it… Do whatever steps are necessary to get to the next level.
Tag: implementation
##Documentation Jam
You've already created a good technical solution or 'best practice' but it is not well-documented (open sourced) yet? Sit down and start the documentation. Invite people to test your documentation, give feedback, suggest good tools or structure, or provide other help with design, language or anything else. Communication is key.
Tag: doc-jam
##Playing & Researching
Creativity means to jump outside of the box. Some challenges will be very unusual or different from the ones above. Well, the 'play' tag is for you. It might be research or experimentation, for art or protest, for laziness or communication.
Tag: play-research-art
–
###Looking For A Problem To Run A Challenge Around?
Looking for content - a topic or subject - to run a challenge around? Have a look at our: