Hey @BoST
I have been reviewing the statutes we had developed in early 2016 and I think it is still good in design and probably also mission statement. Check this topic - to find the statutes and also links to all related sub discussions held back then. All the questions we are facing right now have been discussed 2 years ago. Probably a lot of the stuff is still good.
Here are extractions:
#Structure
In the video you can see the basics of its inner workings.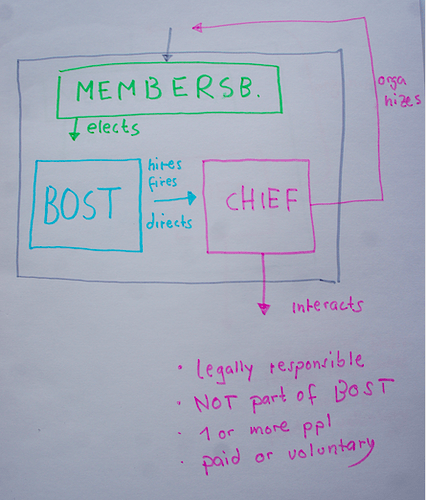 I forgot to say in the video that the "Chief" can not be part of BoST. The members gathering and voting happens online. The Board is of course international.
#Purpose Statement
if we go with the association we'll need a statement in the statutes about what it is for. Below is what we had in the statutes last time. Does it still cover our goals?
Some stuff needs to be in there to get the authorities grant us tax reduction. That stuff is made bold. The rest we can design as we wish. Here is a tanslation:
§ 2 Purpose of the Association (Goals & Tasks)
(1) Purpose of the association is to support science and research and educating the population. Goal is to foster a debate about the key role of Open Source for the development and organisation of a circular economy. The association does research, educates and produces practical, freely accessible examples, tools and possibilities for an Open Source Circular Economy and supports others doing the same. It wants to make the access to Open Source & Circular Economy easier and build a community of individuals and organisations of all kinds to collaboratively research and develop an Open Source Circular Economy.
(2) This will happen through:
public educative and scientific events (like workshops, seminars, working groups, talks)
the active production and publication of scientific works useful Open Source Circular Economy tools and solutions
running and further development of an open internet platform where a global community can meet to collaborate on projects, share resources and ideas and push the development of an Open Source Circular Economy.