Hi @BoST & OSCEdays Community & Enthusiasts
I collected my thoughts regarding the past and future of the OSCEdays. First analysis. Second my ideas for the future.
#Analysis
##Successes
When OSCEdays was started less than two years ago one of the goals was to establish its question in the global discourse. I think it is fair to say, we managed to do that with all our partner cities across the globe and other organisations picking up the question.
Also it is a fantastic gift that we now have this community – a committed Board Of Stewardship and many local actors interested in continuing their work.
##Fails
When we started their were no examples for Open Source Circular Economy. So we made the event a hackathon. A hackathon is an event where people create things through hands on action – let's invite people to create OSCE. But I think it is fair to say, that did not work, so far.
The question is too complex, we ask too much, and give to little guidance. Most people are already busy enough to get 'Circular Economy'. 'Open Source' is a complete riddle to most. And we even ask them to develop Open Source progressively forward because outside of software no one really has a good clue what Open Source could mean there. And we ask them to do all of this at once … Way too much.
Also and maybe for that reason the whole documentation part and online communication around the event did not really work well. We don't know for most cities what was happening. Here and there reports come in. But not to the intended level.
I think "run the event you like on the subject of OSCE" isn't enough to get the productive actions and connections going we hoped to see. We established a global discourse about OSCE but I am not sure how productive and interesting the talking was so far.
We need to change the strategy of the project. Running it again the way we did it would not make sense and I think most of us aren't interested in. Here are my ideas for change:
#My Future Idea
##A Collection of clear Action Recipes
When I onboarded cities I often got asked about clear methodologies. Our answer was complete freedom. But I think we should also offer clear recipes for action – like standard challenges – or "Action Modules" to pick up locally in an event or whenever.
Examples could be:
Run a Business Model Workshop with the "Open Source Business Model For Circular Economy Tool": Familiarize yourself, invite people, document the outcome
'Spread CE to CEOs' of companies: Look up 5 phone numbers, call them, ask them 5 questions, share their responses (anonymised)
Research one local circular material (look for these steps and criterias) and add it to this data base.
Pick and build one open source circular machine from this list of already open available designs (I think some cities built one or more of the precious plastic machines during the event.)
Create and publish a tour-map to circular spaces in the city.
I think, you get the idea. Clear and interesting steps. Almost as simple as Board Games. It should be simple and fun. And following the steps people will experience OSCE while they are doing it. Real understanding can follow from that.
The recipes (or in my head I call them 'scripts') should follow a template and full fill all the same criteria. Like:
####RECIPE CRITERIA
Clear Step by Step Structure
Be about OS + CE
Outcome oriented: They should create some outcome that can be shared or shown
Involves use of the forum and the creation of some documentation
Can be run in a defined time frame
Has a clear starting point and a clear ending point
Can be reproduced (almost) everywhere
(No Must) Can contribute to a larger project (like adding one material to a material database, or create another copy of a bio digester etc.)
The exact template and catalogue of criteria is to develop in the coming weeks.
(Btw. One Standard recipe could always be to "create an individual challenge". And under this recipe we can sum up most of the challenges that are already in our forum. This strategy connects to the past.)
##OSCEdays Project on the Surface then
OSCEdays would be a growing collection of recipes for action and documentation following from that and an invitation to run an event with the recipes any time. The website could teaser some recipes and show a list of upcoming local events. Everyone can add an event, run one in parallel to another one for example and connect to it – following the action recipe "create global connections" for example.
WEBSITE DRAFT:
This is how the website could look like then.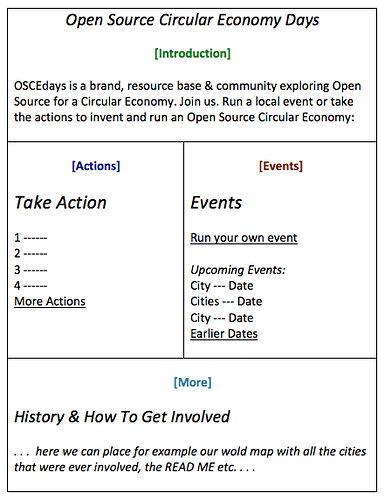 You see, it is different from just an annual event. That way we can get in more permanent action. We still can run one global event where we try to reach out to many people, if we think it makes sense.
#Organisation/Legal Entity
Given our resource situation we decided a while a go to postpone the building of an own organisation for OSCEdays. @djcoco already shut down everything that was on the road.
We have a little money left and will probably need a legal entity to handle something here and there. I suggest we ask the CRCLR e.V. here in Berlin. They are very into the OSCEdays. And maybe for a small fee for each transaction they can handle our money for us. I suggest we brainstorm this in one of the future BoST calls before we write something down.
#Next Steps
What are the next steps. We need to agree on a future strategy – maybe the one I suggested above.
I offer to rebuild everything – adjust the website, forum, READ ME etc. to the new strategy and come up with drafts for a standard template for the action recipes and first examples. All of this with your (BoST and interested Community Members) constant feedback. Sam @cameralibre will help with that – with the operational work.
I talked to Sam. We both have some time for it and an interest to do it. But we would need some payment for it out of the money that is left. I am happy to invest most of my September and October to the task and I am able to do also some work for free (because I had some good paying jobs) but not all it. Let's discuss this in a future BoST Call.
–
I am pretty excited about the new plan. And I think it will recharge my whole motivation. And I see already so many possible uses for this new strategy in the foreseeable future. It connects perfectly to the other projects in the next months. It for example would work great with the DIF collaboration. I wrote a proposal about that here as well. Don't miss it. It can explain the strategy a bit more.
Curious about your feedback.
Lars
---