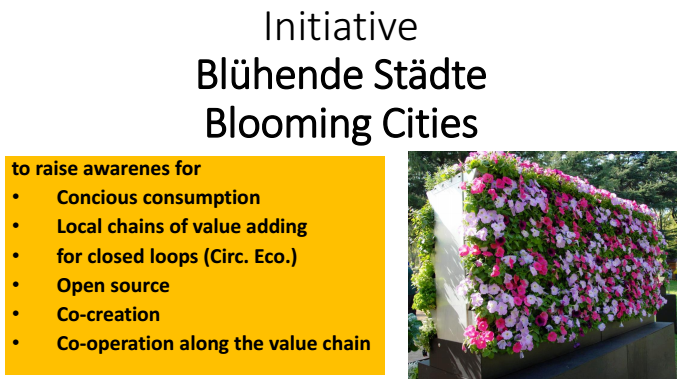 ##Who we are:
So far simply me having an idea, looking for people to see if the idea might work.
so ping me here or via: bauerdieter15@gmail.com
##What I'm looking for:
Support in Design and prototyping the furniture.
And for proof of concept also looking for people to make it going.
I think it would be great to be able to talk about first experiences at the OSCEdays already. So I think to work on that the Kiez of Agora/ crclr hub definetly matches to start. As there are various connections.
Next steps see as reply.
##So here is the basic idea:
Initiative to raise awarenes for
Concious consumption
Local chains of value adding
for closed loops (Circ. Eco.)
Open source
Co-creation
Co-operation along the value chain
Using the value chain of Flowers – cut flower and potted flowers - as visible instrument.
Not blaming other production sites: just communicate: "This one was brought to you by a local value chain."
So the idea is, to do business and to pay everyone who is participating in the value chain!
Setting up value chains – and securing that everyone is economically participating of the revenues`