RSA Great Recovery present their challenge
Circular Maker Spaces
● Key challenger: RSA Great Recovery
● Challenge reviewers & Insight Future Make Spaces, RCA , Fab Lab London,
● Themes: Circular guidelines, sustainable design, engagement, places
Problem Statement/Ideal Situation
How can we support the worldwide local maker movement and places to build sustainable practices and 'circular thinking' into its approaches, projects and spaces?
Around the world there has been a growth in practical Fab Labs, maker spaces and local design and manufacturing capabilities. This is encouraging for the circular economy community, as it raises understanding and awareness around how things are made and where they come from and fosters greater consideration of the impact of resource use. There is opportunity to further enhance this with aligning the way and place of working, alongside building in greater consideration of the future effects of this area; including 3D printing, wearable tech, IoT.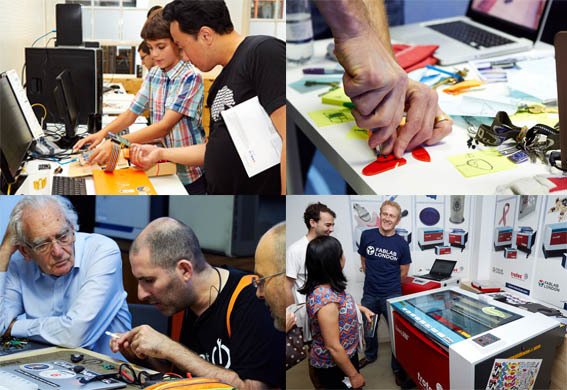 Images courtesy The Great Recovery at Fab Lab London
Envisioned outcomes
We would like to encourage open guidelines, inspiration and resources that support the integration of the circular economy into maker places, fab labs and similar spaces, both now and in the future.
For example:-
❖ circular mapping or design tools
❖ wayfinding or templates for the space
❖ sample prototype designs
Constraints
Limited resources/ money
Individuality/ flexibility/ personalisation
Applicable to different types/ countries
Motivations/Barriers
● Opportunities in alignment of values and ethos
● Consideration of possible unintended consequences of local maker movement
● Still enabling exploration and experimentation
Users
Who should the results, approach, solution be aimed at/ for?
Primary: Fablabs, makerspaces, hackspaces (both those managing and those making use of the facility – students, entrepreneurs, families, professionals, over 50s)
Secondary: University or school workshops, crafts festivals
Partners/ Key Stakeholders
Who may be good to lead, link up, engage with to use, communicate, fund?
● Fab Lab network (incl business contacts)
● Makerspace network (eg Maklabs, Hack spaces, Machine Rooms etc)
● Royal College of Arts
● NESTA
● KTN
● Universities?
● Pearson?
● Possible related press - online forums and magazines?