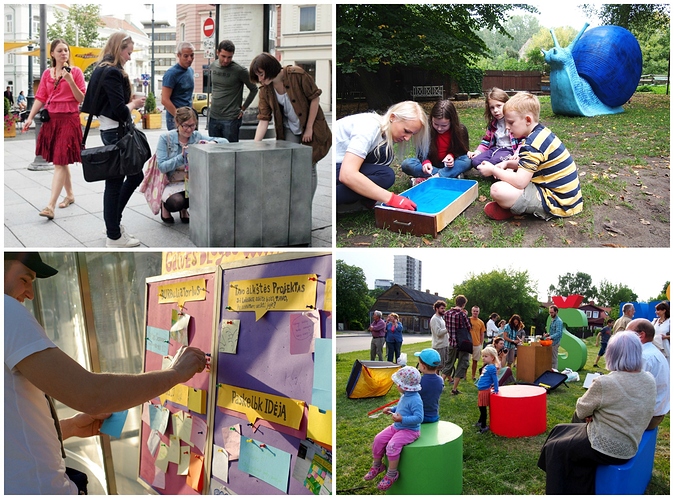 Photo from Laimikis
The challenge
How can we design, make and document open source urban furniture using recycled materials that help people connect, create and collaborate in public spaces…in particular parking spaces?
Background
What if you could reinvent the practices and infrastructure that exist in public spaces? What if you could create new practices and infrastructure that enable people to feel like they can connect, create and collaborate with each other in these spaces?
We are a networked collaboration between architects, anthropologists and designers from three organisations, European Alternatives (London), Laimikis (Vilnius) and radarq (Barcelona).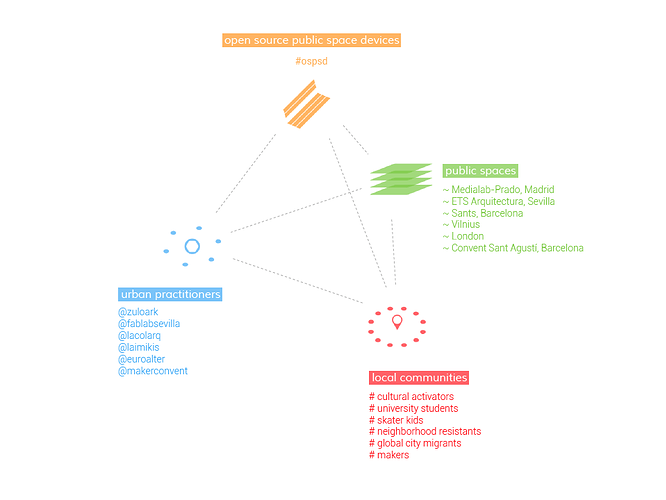 This collaboration was born at the ECF Idea Camp '14, bringing together activists & practitioners from across Europe who were reshaping public space. Initially three distinct projects below, we networked together to create Public Space Makers.
Hack (y)our Borders helps discover the social and cultural barriers that people face when using public spaces.
Urban Furniture for Sharing seeks to promote participatory urban culture and revitalise deactivated public spaces, our interdisciplinary team develops urban furniture, which is designed for sharing
Open Source Public Space Devices is a potential kit of resources and knowledge shared by communities and urban practitioners already involved in shaping and redesigning public spaces.
We want to understand how you can reinvent practices, devices and environments that enable people to feel like they can connect, create and collaborate in urban spaces.
We are doing this by carrying out research with neighborhoods and communities in public spaces, designing and making physical objects and collecting, developing and sharing the methods.
The challenge and process
We will be running a transnational workshop as part of OSCE Days on 13 - 14 June in Herne Hill, London with participants from Amsterdam, Barcelona, Berlin, London, Vilnius and Warsaw.
This workshop will help people design, make and document source public space devices that help people break down cultural and social barriers in public spaces. The public space we have chosen to focus on here is…car parking spaces!
From the devices and urban furniture prototyped, the designs will be open sourced and activities will be developed to create interactions between the furniture and the public spaces.
Call for help
How do we plan to work on the challenge?
People who've been uncovering how people experience and break down social and cultural barriers in neighbourhoods across Europe will be coming to London to share their stories.
We will work together to design and make urban furniture that can be used and repurposed for people to use in different and exciting ways, in public spaces that are unloved…in this case, car parking space.
Whether you're never made furniture or you're an avid maker, the only skill you'll need is curiosity to learn and experiment with other people!
We will then come up with ideas for how people could use and hack the urban furniture in different ways and then…develop pop-up activities that put these ideas into practice that weekend!
We will document how we're designing and making the furniture so that other people can make and use the furniture in their neighbourhoods.
How can you get involved?
Discover how people are developing exciting ways to bring different people together in public spaces…using urban furniture
Design and make urban furniture that can transform car parking spaces
Develop activities that get people to use the furniture you've made in exciting ways
We're looking for people who can help design the urban furniture (i.e. product and interior designers, visual illustrators, artists), who can use materials and/or re-use existing furniture to make urban furniture that can fit and work within car parking spaces (i.e. makers) and people who can develop playful activities involving the urban furniture (i.e. games designers, artists, performers).
We're looking for people who can bring materials that could be used to make the furniture (i.e. pallets, cardboard) or disused furniture they no longer need (i.e. chairs)
We will be based in the square around Herne Hill Station. You can sign up here.
What tools can you use if you want to run a similar workshop in their city?
We have been carring out research and using methods that you can use and contribute to at http://ecflabs.org/lab/public-space-makers.
Core team
@noelito Noel Hatch (European Alternatives) - Challenge leader and general coordination, social researcher.
@laimikis Jekaterina Lavrinech (Laimikis) - Social research leader, anthropologist
@pacogonzalez Paco González (@radarqnet) - Design leader, architect.