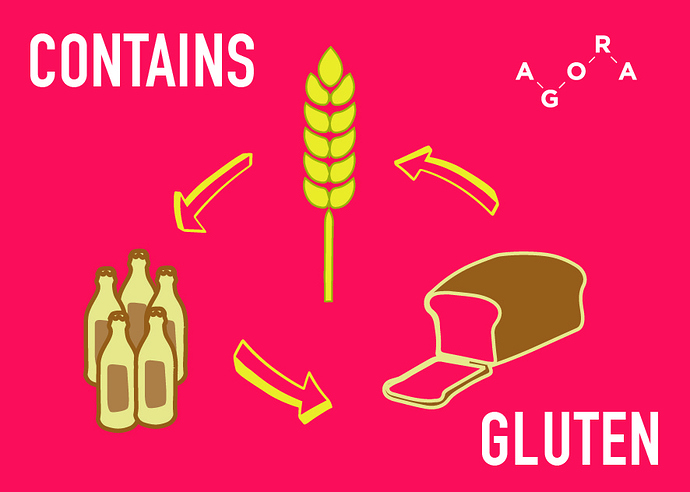 Edible upcycling is a local movement to close loops in the way we think about and produce our foods. Through this introductory, two part, hands-on workshop, we will share our knowledge of making simple, craft beer and hearty, nutritious bread, and show you how the two processes are linked. Be warned, the workshop contains gluten.
The workshop will take place at Agora Café (Mittelweg, 50)
Date: Sunday, the 14th of June
Time: 11am-6pm
Price for bread, beer workshop and performance : 15€ tickets available here
DOCUMENTATION
PAD: To allow participants to document this challenge in real-time, a collaborative Etherpad document has been set up here:
https://pad.oscedays.org/p/berlin_contains-gluten
FOLDER: To store and share documents, photos and other files relating to this challenge, please upload them to this challenge's cloud folder:
http://is.gd/containsgluten
###THE BEER
In the first part of the workshop, we will lead you through the full process of brewing your own beer, grain to bottle with Antonia Gogin (aka Beer Captain) and Henning Hohne (aka Beer Alchemist) on hand as guides.
###THE BREAD
In the second part of the workshop, we will use the leftover grains from the brewing process, called "spent" grains, to make hearty nutritious pizza dough with Kathe Kaczmarzyk (aka Bread Head). It's gonna be glutenaous.
###LEARN
Pepe (aka Leftover Food Upcycler Extraordinaire) will make magic, and show you how to upcycle your leftovers to make different kinds of edible creations to complement the pizza dough. So, come hungry and bring your leftovers from home!
###UPCYCLE
Take home some spent grains from the workshop to experiment with edible upcycling in your kitchen. To help, we'll have recipe cards to share from Anna Bee (aka Wild Taproot). We'll also have upcycled sourdough bread to share after the pizza making.