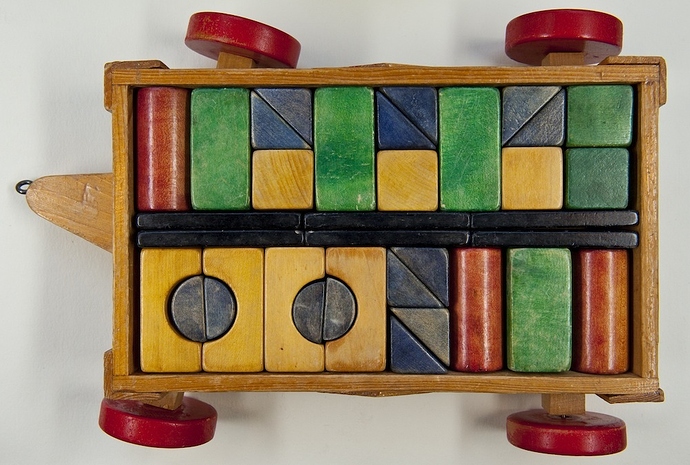 ##Update
i did not manage to find the time to work on this challenge during the OSCEdays 2015 cause i was busy with global reporting. But i will do this project, sooner or later. If you are interested in joining me, i am still open. just ping me @Lars2i
° ° ° ° ° ° ° °
##Summary
Baubus is an idea for an open platform of regenerative toy bricks for kids. The bricks are made from different regenerative (= recyclable) materials and are open source. The challenge is about creating the first bricks.
##Background
I have this idea for years now, never came far, but now the time is right. The project tackles many different problems one of them is recyclable materials and the transparency of them. What materials are really 100% recyclable and how can the recycling happen?
Baubus aims like Open Structures to create an open platform where people can "download" and "upload" bricks and grow an open catalogue. New bricks introduce new materials and shapes. The bricks are open source and this means that the materials are open source as well. And because the system is meant for kids, the description of why and how the recycling/regenerating can happen is supposed to be very simple. In the end, Baubus could become a big "modular" system. Where Lego and Meccano are modular and therefore reusable because of their design, Baubus is modular and reusable on the level of materials. New and endless worlds for playing and learning to explore!
Curious about the concept? Read more about it at the Baubus Website.
##The Challenge
Baubus faces 3 challenges right now.
(1) Find recyclable materials, transparent and open, and create the first bricks – the first family, maybe even the first Baubus Box.
(2) Find a simple way to describe the recyclability of a brick/materials in order to make endless hacking possible.
(3) Design a Logo for Baubus [subchallenge]
This [main] challenge is about the first one: finding first bricks and materials for Baubus.
The second task – to find a simple way to communicate and catch recyclability – is hard and will probably be addressed in (an)other OSCEdays challenge(s). Baubus aims to collaborate for this also with the IPO tables project which will probably also be an OSCEdays challenge – posted soon. Here is the webpage of that project.
##Process
There are several steps to do and contributions are very welcome.
###(1) Find Materials
Please suggest some materials. The material should be
recyclable: the material should be recyclable, 100%.
a transparent process description is needed – how the manufacturing happens and how the recycling can go. Full circular life cycle. (the material has to be open source – for everyone to use)
Where / How to find this material
(Is there another material challenge in the OSCEdays?)
###(2) Or Find Shapes
Baubus bricks can have all kinds of shapes, sizes and consistencies. Please suggest cool forms, for bricks or families of bricks – open source.
###(3) Or Suggest full Bricks
This is what we are going (trying) to develop in Berlin. And it would be the most awesome thing, if other cities would contribute some! A fully fledged Brick, with a
name,
shape,
and a downloadable simple description, how to make that brick, and why and how the material/the brick is recyclable/regenerative
Please share.
_
In Berlin I will try to gather a group of people to work on the Baubus challenge – for two days. Dates not sure yet. I am very happy to receive first comments and suggestions here already before the OSCEdays. And I am also happy to get in touch with people, that like to help with the development of that project. As early as they like.
##Documentation
PAD: To allow participants to document this challenge in real-time, a collaborative Etherpad document has been set up here:
https://pad.oscedays.org/p/berlin_baubus
FOLDER: To store and share documents, photos and other files relating to this challenge, please upload them to this challenge's cloud folder:
http://is.gd/baubus
###Resources & Links
Call for help: Do you know good databases for materials or similar projects?