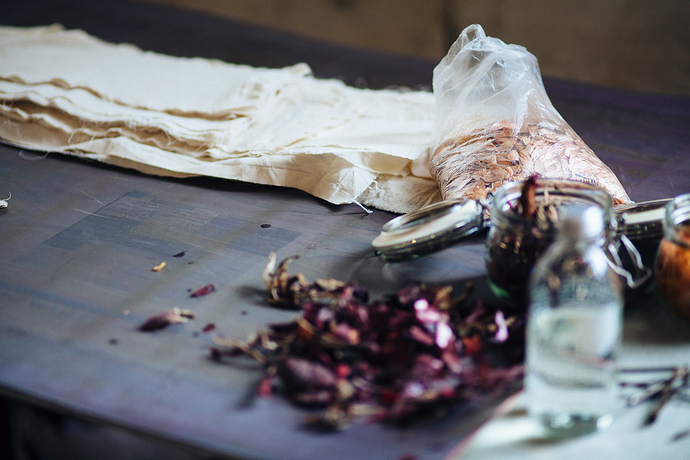 Photo credit: Cherie Birkner
Wer sind wir / Who are we
I am Elke, fashion designer/maker at STILL garments, natural dyer and guide at Green Fashion Tours Berlin. My work revolves around slow fashion/textiles, sustainable natural dyes, zero waste.
Get an impression at my website or instagram:
https://www.stillgarments.com/4
https://www.instagram.com/still_garments/3
What will we do / Was werden wir machen
Introduction to natural dyeing/eco printing with kitchen waste: In this workshop you'll learn the basics of how plant dyes stick to textile fibres, what a mordant is and why it's your friend, and most of all you will bring a garment (or fabric for a future project) which you'll dye with an amazing pattern.
Time, Place & Supplies / Zeit, Ort und Ausstattung
TIME & PLACE

Saturday, June 16, 13:00-15:30

@Infralab Markt, OSCEdays Berlin 2018
–
Get your ticket here: https://www.eventbrite.de/e/eco-print-w-kitchen-waste-bring-your-own-garment-osce2018-tickets-46726398917
Ticket includes entry to all three days of OSCE days 2018.
If there are free spots left you can join us on the 16th - on site tickets are 25€/20€ for students.
Sat, June 16th, 180 min.
Address: EUREF-Campus, 10829 Berlin
Space: ?
Supplies:
Wir brauchen im Idealfall 3 Steckdosen, (eher nicht Mehrfachstecker in einen Anschluss), Wasseranschluss gern nah… es kann schmutzig werden.
Platz für 10-12 Leute, etwa wie 2 Biertische + -bänke dazu. Und einen stabilen Tisch oder festen Untergrund für Töpfe und Heizplatte sowie noch etwas Platz für Material u.ä.
Contact / Kontakt