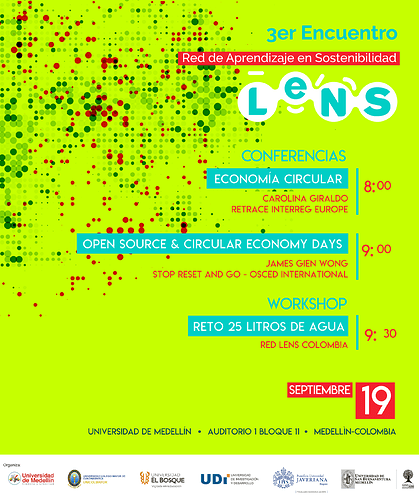 During the 3rd meeting of the lens colombia network, part of lens international, will be carried out a hackathon based on the 25-liter challenge launched during the February event in South Africa. what is sought is that groups of students from different universities, during the first weeks of class develop a product that can reach the parameters of this challenge within a household: it is possible that a person can live by using only 25 liters of water? In this way, it is expected that water problems that are occurring in different cities around the world can be solved in some way. The results will be presented, completed and improved during the September 19 event in Medellín, Colombia, creating interdisciplinary teams among the participants of all the universities.
EJERCICIO A REALIZAR DURANTE EL 3ER ENCUENTRO RED LENS COLOMBIA
Durante el 19 de septiembre de 2018, los diferentes equipos conformados por las universidades participantes presentarán los ejercicios desarrollados utilizando los parametros expuestos en cada aula. para esto, se llevará el siguiente formato completado.formato trabajo 25 litros de agua.pdf (1,6 MB)
Ademas de esto, se invita a que cada uno de los equipos comparta archivos que profundicen el trabajo desarrollado aprovechando la plataforma http://platform.envienta.org/ donde se comparten proyectos opensource con el mundo y se conectan creadores, productos, inversionistas y todos aquellos interesados en que el proyecto pueda desarrollarse de mejor manera.
Para esto, se solicita a los equipos interesados inscribir su correo (1 por equipo) en http://platform.envienta.org/ y subir:
-Una pequeña descripción del proyecto:1 parametros.pdf (506,6 KB)
-Calculo de consumo de agua al interior del hogar(para cumplir con 25 litros de agua por persona):2 calculos y materiales.pdf (424,5 KB)
-Diagrama de componentes:3 diagrama de componentes.pdf (418,7 KB)
ejemplo: planos despiece.pdf (84,1 KB)
-Modelo tridimencional de la propuesta (en el formato preferido, se recomienda *.stl)