If there is still a spot left, I'd be in as well. : )
hi i am glad to be a part .
Hi, thank all of you for being interested in visiting the Veolia waste management site!
The list of 15 participants is now completed!
@transitionmaike, @Sophia, @Sarah_Pollinger, @Signe, @Lars, @cameralibre, @Hannes, @Romain_La, @simonlee, @Hanne, @Alice , @Dann_Dannah, @Anders, @OTTILIE, @Rafi_Dutchmann, @Justine
Here is the link to the place we meet for our guided visit on thursday 11 june at 3 p.m.:
http://www.veolia-umweltservice.de/standorte/anfahrt/Servicecenter+in+Berlin/79
(Bus 172 or M11)
I'm looking forward to meet you!
YES! Thank You!
Anyone besides me who is planning to bike there from Kreuzberg? Would suggest to meet Oranienstr/Adalbertstr at 2pm @cameralibre ?
Pls email me, to ottilie.keppler@gmail.com, so we an coordinate from there without spaming the thread.


Looking forward as well!
aber natürlich.
Though I will probably be at Agora rather than in Kreuzberg, so maybe the bike gang can meet there? It looks like a nice ride down the canal: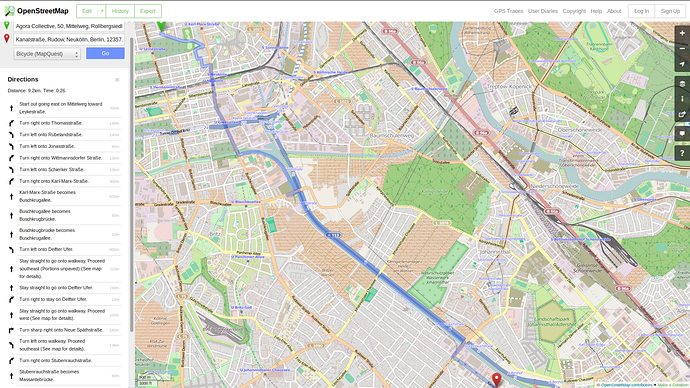 Hi, i think we should allow 3 more to jump on board. From my experience, some people will drop out on a short notice. So having 3 extra should work.
sooo… this means, there are 3 more spots

@eliana yes, you can join for me. As i am not sure, if i can make it.
Thank you Lars!

Make photos (if allowed.)

this should be ok

Moa Nilsson, the Communications Responsible of Impact Hub Berlin, would like to join and do some social media coverage about the event. Is it still possible? @MoaNilsson @Sylke
I think so, we'll do our best.
Hi there,
is it too late to join? Did not have time to join the community before.
All the best from Bremen,
Marcel
Let's have a trial, certainly some won't come. See you tomorrow

Sounds great. I will arrive late tmrw, so I'll most probably only join you from Friday on, but let s see. Have a nice day!
But the visit is tomorrow …!
@Sylke I'm sorry I got confused with the dates. That s a pity.
There is a guest from Spain (Gema Gomez) who would love to join the trip but didnt see this opportunity before. I would be very happy if she could participate. Probably some wont come, so we will be there at 3pm. Hope this is ok!
So far I assumed the tour would go from 3pm–4pm – but, is this actually the case? How much time do we need to bring? (got an appointment at 6pm) Also would have Benni from Thinkfarm, who would join, if time (tour ending at 5pm) and spots (+/-15 to 18?) were still available. @Sylke