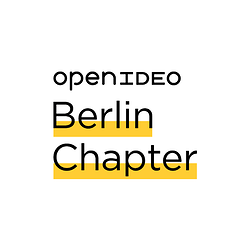 Who are we
OpenIDEO Chapters are volunteer-driven communities that connect creative problem solvers in cities across the globe to design local solutions for our world's biggest challenges. The local OpenIDEO Berlin Chapter focuses on catalysing change in our local city.
What do we do
Host a talk that shares 10 different real examples of inspiring circular projects happening around the world. This will focus on practical projects that can provide courage to those looking to start their own circular enterprises.
OpenIDEO has previously hosted the Circular Design Challenge with the Ellen MacArthur Foundation, which had $1,000,000 worth of funding granted to circular projects all around the world. Currently live is the Nike Design With Grind Challenge, which focuses on dealing with the waste products from Nike's manufacturing process.
Time, Place & Supplies
TIME & PLACE

Saturday, June 16, 13:30

@InnoZ Forum, OSCEdays Berlin 2018
–
Will need standard equipment for a talk: projector, mic, speakers, laptop hookup, and audience seating. Talk will last around 10 - 15 minutes with a short Q&A afterwards.
Contact
Reach out to Kaye at: rhan@ideo.com
Open Resources
OpenIDEO
OpenIDEO - Nike Design With Grind Challenge
OpenIDEO - Circular Design Challenge