OSCEdays Berlin, Talk on 16 June 2018
What is holding us back to put into practice the solutions to the worlds' urgent problems?
Why come to this talk?
Life on earth is at stake, and very soon there will be no returning back… a circular economy may be one of the best solutions for a sustainable change in our lives. Let's try to understand why it is not widespread within our society.
To understand the workings of our society we present animated slides on the graphic novel called "For a Better World". Written in Japanese Manga Style, it is not just fiction and adventure. Based on more then 400 recent articles and academic studies, it unveils the truth about the world we are living in that is not easy to digest.
If you were ever asking yourself why the world is not already like most of the people around you are wishing it to be, maybe here are some of the answers.
Three characters inspired by the film Matrix are taking you on a quest to find answers: why is there so much injustice, hunger, wars, misery and destruction in our world?
Do you dare to see behind the illusion we are living in?
The adventure brings the heroes face to face with our reality depicted by a series of exploits involving the super wealthy, the paradise papers cables, industrial and government corruption, wars, military psychological operations, intelligence agencies procedures as revelled by Wikileaks, environment destruction by big companies and finally the Shadow Government also called the Deep State.
On the basis of these insights, we would like to discuss together:
What are the challenges to the creation of a circular economy?

Do you think people are aware of the present 'state of the world' and the impact of that in their everyday lives?

Do you think people are willing to act towards the realisation of a just world in terms of social, economic, political and environmental perspectives?

What is your personal contribution to that?
Contact
infofbw@gmx.de
Equipment
We need a projector or large screen to show the powerpoint slids from our computer.
Time and Place
OSCEdays Berlin, Talk on 16 June 2018. We need around 1h30 min for the presentation and discussions.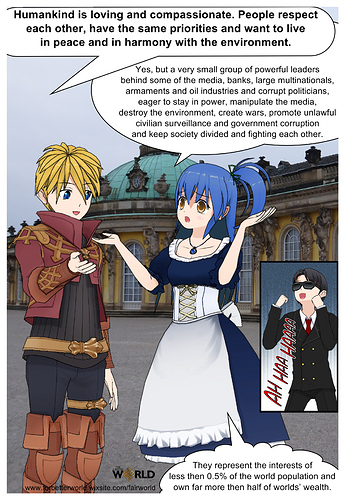 TIME & PLACE

Saturday, June 16, 11:00

@Infralab WS3, OSCEdays Berlin 2018