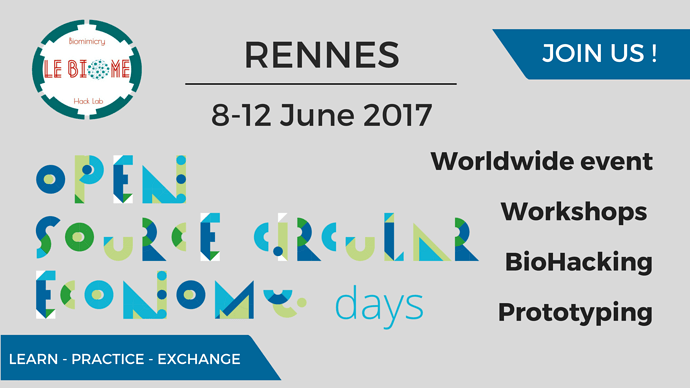 Welcome to the Open Source Circular Economy Days RENNES !
The event takes place in Rennes since the beginning of the international initiative 3 years ago.
Here the event is carried by the Biome's open worldwide community specialised in biomimicry…
Join us to co-organised and participate to the event !
PROJECTS
In Rennes, the event is focused on 3 projects. The list can grow if you propose another one :
ByoDIT - Transparent colomn composed of ground layers containing soil bacteria. Also connected to model energetic human systems. It is a work to raise awareness about ground ecology that composed 99% of the biomass.
To resume, Build Your Own Device for Infra Terrestrial

OpenBioBlitz - Development and tests on an essential tool for the beginners to professional naturalists to identify fauna and flora.

Starter Kit Aliapur - Object creations from aggregate recycled from tyres.
PROGRAM
Remote collaboration & contribution possible
During the 5 days => PROJECTS hack & make, learn by doing
18h Thursday 8th June - Discovery workshop about Open Source and the importance of the free digital + Deliver the biodiversity data with the OpenBioBlitz project !
18h Friday 9th June - Practical workshop about collaborative digital tools
18h Monday 12th June - Restless return of the 5 days of event !
Contact on Facebook or by lebiome.hacklab@protonmail.com to discuss

Live documentation, in french yet but english version soon :