Hey @Gien yep i'm definitely in. Lets plan it for next week?
I'm out until December, but feel free to get started without me - just make sure you take notes/share results of the talk with us here!
Yep will do. We will have more than one call anyway and as we already both discussed about it quite in details, I can already share what we discussed about with @Gien and others who would join
Ok, just as one more input, there is something happening that could be cool

@unteem, Tim and I were talking about Neo4j as well. We were talking about possibility of arranging a hackaton with Neo4j to develop an initial application that can then be placed on github for further development.
@pierreozoux great link! This is definitely something we can all support and we all need. Maybe Neo4j can be part of that mix?
Also, a colleague who works at P2P sent me this:
http://blog.p2pfoundation.net/open-supply-blockchains/2015/12/07
which is good thinking around Lars idea of tracking supply chain for effective OSCE.
Two meetings ago, Lars (or Tim?) said that Backfeed was entertaining the idea of ethereum for developing for tracking value in a network of collaborators.
@pierreozoux I've joined Hylo:
(aka Collaborative Technology Alliance)
I'm also student at MIT U-lab MOOC and they could use a platform like this to so mentioned that. I didn't mention OSCE Days yet…I thought I would talk to everyone here first.
@unteem, @cameralibre, Are you guys ready to meet and discuss Neo4j ideas yet?
@Lars2i, I told my friend Ferial from Scotland about OSCE Days and I was catching up with her today. How did meeting go? I met Ferial at MIT U-lab and introduced her to OSCE Days and SRG project and she wants to help organize an OSCE Days in Edinburgh. She said she had good meeting with you. She has some good funding ideas that we might want to listen to.
I have a question for everyone that relates to the funding issue that we discussed in last meeting. I was speaking to Mustafa at TU Berlin and he brought up funding challenges with our projects. Same situation we are dealing with here at OSCE Days. It's necessary to get some funding but Question: Where is value? Is it only to be found in money? Why has money become so dominant as a metric of value…so much so that we are paralyzed without it?
If we have 1,000 participants in OSCE Days and within each participant, another level of social constellations around each of them. We have many thousands of talented individuals with a lot of different resources and value. Is it possible to leverage that value to do something powerful with? What if we just looked at money as a MINOR form of value but treat the other forms of value as the MAJOR form that they actually are? We have to think outside the box and find more creative ways to leverage the enormous value we already have.
I've always believed that an economy needs the people first and the medium of trade a distant second. Without the skilled, creative and caring people, no economy is possible. So…we already have the most valuable resource to create an alternative, parallel economy…a global one. Some people have buildings, some have land, some have ideas, some have skills. We just need to find a way to match the resources we need with the resources already available in our vast networks.
If we are going to scale up open source designs, we need to be developing an economy for it, an ecosystem in which all those who participate benefit from it. The Global Ecoshop idea was built around this idea of mutualizing all the open source designs that grow out of our community effort so that all those who are directly participating can become economically sustainable as they sell these solutions into mainstream consumers in their respective local communities. If we are thinking of scaling our impact, we feel this is an important idea to put on our roadmap at the very outset so that we can work towards achieving it rapidly.
I would like to propose that one of the themes we explore in the next OSCE Days is this: Can we, all the participants of OSCE Days, develop a REAL pilot open source circular ECONOMY within our OSCE Days global community?
Hi Gien,
I am so happy to see your last post about value and sustainability.
In 2005 I began working full-time on answering these kinds of question.
Around 2008 I made a series of discoveries that describe a new way to treat property, promises, product and profit.
Along the way I have found this system contains elements of crowd-funding, crowd-sourcing, time-banking, direct-taxation and 'forking'.
Hope to be included in any discussion about strategies for starting and maintaining production.
Hi @AGNUcius,
I would love to hear what your experiences were and what you discovered and see if we could combine ideas to birth new ones. In next OSCE Days, I would like to have a game that mocks up an OSC Economy and see how we might actually manifest those into existence. I will definitely do this in Cape Town, Johannesburg and Durban (maybe Stellenbosch too…I want to grow the OSCE Days network in South Africa). and also include representation not just from urban centers but also from the marginalized townships, where such economies will have the greatest impact.
I hope to spin-off all the ideas we develop for building our eco-house into business ideas that can incubate new businesses. The main goal is to spin off cooperatives in townships that can become self-sustaining businesses and plant the seed for OSCLE (Open Source Circular Local Economies).
The game could be simliar to the one used at Transition Networks meetings where they imagined a Transition Town of the future. Could we, all the cities and communities participating in the next OSCE Days, imagine building a supportive network whereby we all mutualize our designs and share them with each other as in Michel Bauwen's Global Commons concept, and help each other to create local economies everywhere. If we reach a minimum threshold of producing goods and services, we can create the beginnings of a circular economy within the OSCE Days community.
Berlin is a big OSCE Days hub. There is strong innovation community there. Same with Barcelona. I don't know where you live but in Cape Town, it is possible too. In fact, I have been asked to present at http://learningman.co.za/ and I can publicize this idea there to see if I can recruit more people to join OSCE Days and also to participate in building OSCLE's. The "economy" part is what will organize us all into a cohesive force with a common direction instead of a large group of unrelated projects.
Centuries ago, much of society was actually local economies and there was a lot of sharing and things were organic. In an earlier part of the development of human civilization, we were all living in OSCLE's but the technology wasn't as sophisticated. Therefore, we know it is possible. If we can replicate that and develop alternative OSCLE's embedded within the mainstream economy, it will be like a cancer in the main host and grow larger and larger. Its success will feed on itself exponentially. In this case, it's a good cancer!
Another idea is that we can each have a community meeting in the very community we each live in and make a presentation about what OSCE Days is and begin exploring OSCLE in our own community. How would we make that happen? What are the benefits? What work needs to be done?
There would be a lot to discuss. Right now, we all go to the giant supermarket and get sold brands from multi-national companies. What if we could change that model and go local? Could we develop a strategy to supply all the goods and services locally within our own neighbourhoods? In a lot of big cities, we have high population densities and people can walk to get their supplies. But in many other cases, we can't walk anymore because giant supermarkets and shopping malls are centrally located far away and you can only get there by auto transportation. How would we deal with OSCLE in those cases? If the OSCE Days community could decarbonize at a much higher rate than mainstream supply chais, we could rapidly accelerate the decarbonization of the planet by scaling out successfully.
That would be a great project to spread OSCE and OSCLE exponentially and in meaninful ways…right in the communities we each live in!
Hey @Gien
We are having a meeting here in Lyon about those topics right now and more globally about the technologies - hard & soft - around makerspaces. I need to take time to properly document and translate those stuff…
Next week, Tuesday? we can skype about it or discuss on our new chat (chat.oscedays.org)
I think and hope @cameralibre is taking some well deserved days off. We will see more of him in 2016.
@AGNUcius Cool. See you next Tuesday. Give me time of meeting. Send AGNUcius invite too.
Hi everyone,
Tim and I met on skype today about planning a Neo4j hackathon in May to build the platform.We had lots of good ideas. We are going to try to clean up the doc by end of week, finalize our list of sponsors, maybe get a one page brochure we can use to mail out to sponsors.
Anyone who has ideas for sponsor can contribute to our hackpad page. Tim can give you permission.
Sylvia, we are going to meet on Friday. We thought it would be good to meet with Tim as well to discuss fundraising and sponsorship ideas for the hackathon.
We have good experiences with https://matrix.org lately, especially to federate users and channels between different communities. For any non-federated/distributed system, the following applies, too:
This all seems fit for purpose but is neither distributed or designed to outlive the project.
Humanner Collaborative Society Ecosystem Platform
Humanner's definition:
A Democratic, Innovative, Restorative, Regenerative approach to Socety Ecosystem Model
A real-time experimental environment
that enables different role players with some or other common interest
within a domain to collaborate in the use and development of innovative
ideas to solve current and real world problems
in a unique and integrated Web 3.0 way.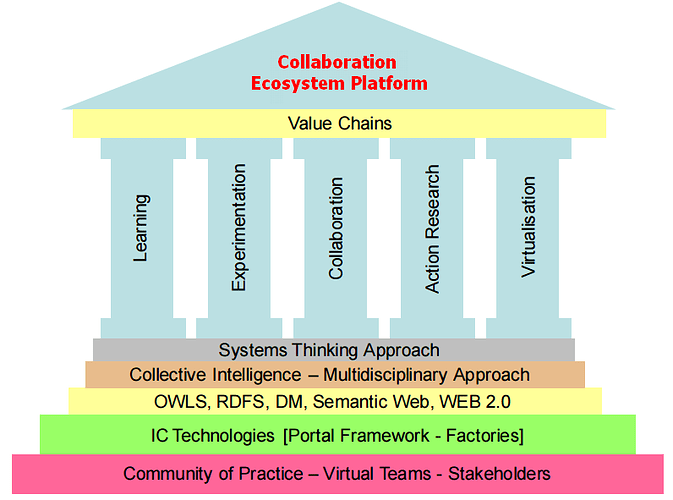 Humanner are systems consisting of tools, processes and methodologies for the creation of collaborative innovation environments focusing on real life user communities.
single point of contact (SPOC)
single point of commissioning
single point of access
single point of digital resources
single point of communication
single point of knowledge
single point of data
single point of social impact measurement
and so on

The Humanner approach is a natural social Web3.0 tool for large scale collaborative product/service performance improvement opportunities for organizations.
From a community of practice perspective Humanner offer full range digital infrastructure and collaborative innovation platform which can help them to
optimize their value chains and obtain better values for their clients.
The internet and digital technologies are transforming our world.
But existing barriers online mean citizens miss out on goods and services,
internet companies and start-ups have their horizons limited, and
businesses and governments cannot fully benefit from digital tools.
It's time to make the EU's single market fit for the digital age – tearing
down regulatory walls and moving from 28 national markets to a single one.
This could contribute €415 billion per year to our economy and
create hundreds of thousands of new jobs.