These are full set of Google Hangout instructions for speakers who are speaking in the OSCE Days Cape Town / Johannesburg hosted talks that will be live-streamed to all 30+ OSCE cities.
June 11 and 12 speakers, please find below instructions on how to prepare for your upcoming OSCE Days Google Hangout Talk.
###GENERAL OVERVIEW OF EACH TALK
Each speaker is given 15 minutes to talk and make presentation with another 5 minute for Q+A. Make sure your talk centers around your specific field of expertise and how it relates to Open Source and Circular Economy. Each talk will be livestreamed to all 30+ OSCE cities plus the internet in general. OSCE Cape Town will moderate most talks and there may be some questions or comments from time to time but you will have the stage for most of that 15 minutes. Your presentation does NOT have to be 15 minutes long and can be one of two formats:
Speaking only (no powerpoint), in which case the format may be more like an interview or dialogue with speaker speaking and some questions from host
Speaking with powerpoint or other presentation software.Google Hangouts allow you to present anything on your desktop including opening a browser and showing website relevant to your talk.See image below on the left hand side toolbar you will see in hangout for sharing your desktop (2nd icon from top - green screen icon with arrow through it)
The 20 minute time period will consist of your presentation (roughly 15 min.) AND Q+A (roughly 5 min.) We will be taking questions from participating OSCE cities and also general public from our Stop Reset Go Youtube channel and also inviting OSCE Days participants from around the world to have the opportunity to speak directly to you by inviting them into our hangout.
During the roundtable, we will convene all speakers of the respective stream. The roundtable will be a forum for interesting exchange of ideas and will be anywhere from 40 minutes to 1 hour long. There will be 10 to 20 minutes near the end for Q+A open to OSCE Days participants and the public as well as anyone who wants to hangout and engage directly.
###STEPS TO PREPARE FOR GOOGLE HANGOUT TALK
Make sure your computer can support audio and video and that both your microphone, speaker and video camera is working.
Make sure you have a gmail account and are signed into it. If you don't have one, search for "gmail" in your browser, navigate there and sign up for free. It takes a minute to do.
Make sure you are running Google Chrome. Hangout only works with Google Chrome.
If you do not already have Google Hangout application installed or are not sure, go to the link below and install, then run the google hangout application. Go here to download: http://www.google.com/+/learnmore/hangouts/ NOTE: Hangout will NOT work unless you install this app.
Once you have installed the Hangout app, you are ready to go! You will be emailed a link to your google hangout talk. Just click on the link and you will arrive at the hangout.
We will try to test hangout with each speaker in the next few days to make sure it works and you are comfortable with the interface.
###HOW DO I MAKE A POWERPOINT PRESENTATION ON MY HANGOUT TALK?
Powerpoint presentations on hangout: Hangouts have a menu bar on the left side of the hangout window. (See Figure 1 below)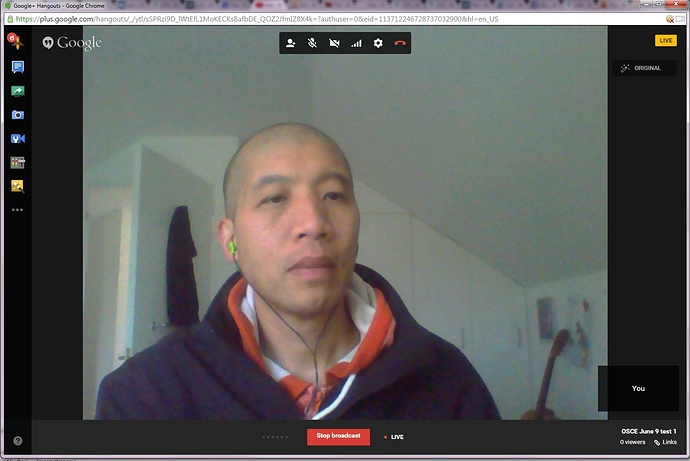 Figure 1: Screen capture of Google Hangout showing menu bar on left
You can select SHARE SCREEN (3rd icon from top left - the green screen icon with arrow in it) to share your screen so that you can present anything from your desktop including powerpoint presentation, website, document, etc…By clicking on the sharescreen icon, you can toggle between he camera picture of you and the picture of your desktop.
###WHERE OSCE CAPE TOWN / JOHANNESBURG HANGOUTS WILL BE POSTED?
All interviews are live-streamed and will be available at two places on the web:
Stop Reset Go Youtube channel: https://www.youtube.com/channel/UCL2_Wi8hObuYkjbgkKvNmIQ
Stop Reset Go Google Plus: https://plus.google.com/u/0/113712246728737032900/posts
You will be able to get to them by clicking on your talk at the main OSCE live stream page:
If you wish to share your talk with others, click on your talk link on the live stream page.
###WHERE CAN VIEWERS SEND THEIR QUESTION OR REQUEST TO HANGOUT WITH SPEAKERS NEAR END OF TALK?
On the Stop Reset Go Youtube page, viewers can chat their questions to the moderator. Viewers will also be given a link to the live Google Hangout during Q+A period in case anyone wants to participate in the hangout, given that room is available (Hangouts only allow maximum of 9 participants). I will be monitoring the youtube channel chat text for questions and accumulating them for each speaker.
NOTE: There is a slight but noticeable time delay between the hangout session and live session that appears on youtube and Google Plus channel.