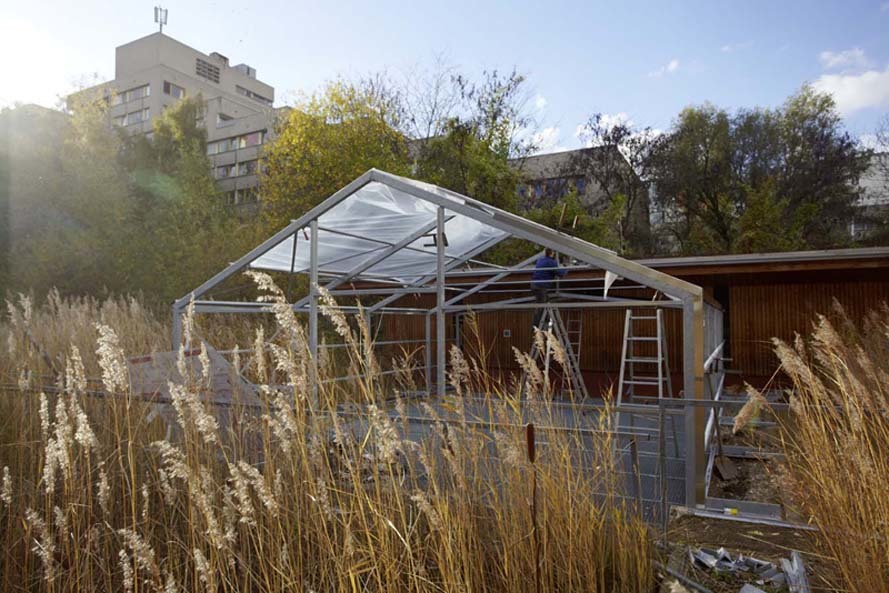 Foto: Marc Brinkmeier © ROOF WATER-FARM
The ROOF WATER-FARM demonstrates paths towards innovative city water management and urban food production. Potentials and risks of redesigning across sectors of infrastructure will be explored and communicated.
The project investigates opportunities for building-integrated water treatment systems to irrigate and fertilize roof-top greenhouses. Technologies for water treatment and aquaponics (plant and fish cultivation) will be examined at a demonstration and test site in Berlin-Kreuzberg. The research focuses on a hygienically safe usage of rainwater, greywater and blackwater as both a strategy for city water management and a potential for urban food production.
The transferability of the ROOF WATER-FARM concepts into the urban realm will be examined based on preliminary findings. Structural variants of greenhouse plant and fish production in greenhouses will be projected for the scale of a building unit, and upscaled for urban spaces at large.
ROOF WATER-FARM explores ways to disseminate these technologies in the urban realm by:
developing and communicating the technical concepts of ROOF WATER-FARM concepts as typological building design studies (profiles, prototypes, building parameters and infrastructure)
performing cost-benefit analyses and life-cycle assessments (sample calculations, model worksheets)
identifying the socio-cultural impacts and effects of urban water management and design on selected residential districts in Berlin (exemplary scenarios, case studies)
analysing potentials and risks of integrating and diffusing these urban water management concepts across sectors (multicriteria analysis of innovation potentials and risks)
analysing drivers and constraints in the innovation arena and developing strategic approaches for the diffusion of the ROOF WATER-FARM concepts (constellation analysis)
determining recommendations of action for the different actors and
developing communication and training media about decentralised water treatment and urban food production.
We will do a tour to the Roof Water Farm Berlin to learn about water-farming strategies for the future city including:
how to filter grey waters from an apartment block
to transform black water from toilets into an urban fertilizer called "goldwater"
to use the filtered water to feed an aquaponics system and the urban fertilizer for hydroponic plant production
how the Roof Water-Farm approach could transform buildings, neighborhoods and daily life in the city
how this concept could be transferred to the Agora Circular Economy Lab
Date: Monday, 13th June 2016
Time: 11:00 - 13:30
Address: Bernburger Str. 22, 10963 Berlin
/ https://goo.gl/maps/B7pNaZuZFf82
Link: www.roofwaterfarm.com
@Lars2i @Justine @Sylke @friederike @transitionmaike