ON?/WHERE?
SABADELL, 8 DE JUNY DE 2018, DE 9:30 A 14 HORES (CAMPUS UNIVERSITAT AUTÒNOMA DE BARCELONA, UAB, CARRER D'EMPRIUS, 2)
TÍTOL? TITLE?
" DE LA TEORIA A LA PRÀCTICA: VOLEM CO-DISSENYAR EN XARXA ELS ESPAIS MAKER DEL VALLÈS "
"Collaborative and circular Sabadell's maker spaces"
QUÈ TRACTAREM?/ABOUT WHAT?
• Realitat, tendències, reptes i oportunitats del món "maker".
• Mapa d'espais i iniciatives "maker" al Vallès i a l'àmbit metropolità.
• Bones pràctiques i exemples de referència en quant a espais "maker".
• Programes de suport existents en la temàtica "maker" a nivell català i europeu.
• Mostra de prototips i eines digitals "maker".
• Presentació de recursos de codi obert disponibles per "makers" (especialment en el portal dels "OSCE days").
• Mesures per reforçar el moviment "maker" al Vallès: de la xarxa Catlabs a la xarxa Vallèslabs. Potencial de col·laboració i compartició de recursos de codi obert entre les diverses iniciatives "maker" comarcals.
• Ideació de la xarxa d'espais "maker" cooperatius i circulars del Vallès, a través de metodologies de "design thinking" i "innovation camp".
• Reality, trends, challenges and opportunities of the "maker" world.
• Map of spaces and initiatives "maker" in the Vallès and in the metropolitan area.
• Best practices and reference examples regarding "maker" spaces.
• Support programs in the "maker" thematic at the Catalan and European levels.
• Show of prototype and digital tools "maker".
• Presentation of open source resources available for "makers" (especially in the "OSCE days" portal).
• Measures to strengthen the "maker" movement in the Vallès: from the Catlabs network to the Vallèslabs network. Potential for collaboration and sharing of open source resources among the various "maker" comarcas initiatives.
• Design of the network of cooperative and circular "maker" spaces in El Vallès, through "design thinking" and "innovation camp" methodologies.
INSCRIPCIÓ ? REGISTRATION?
PRÈVIA ENVIANT UN CORREU ELECTRÒNIC A innovacio@ajsabadell.cat O TRUCANT AL TELÈFON 937453192
PLEASE SEND AN EMAIL E-MAIL IN innovacio@ajsabadell.cat OR TRUCK ON PHONE 937453192 •
OBJECTIUS DE LA JORNADA/ OBJECTIVES OF THE DAY
• Compartir informació i coneixement sobre les possibilitats dels espais makers per potenciar la dinamització social, l'alfabetització digital i el desenvolupament econòmic en base a la sostenibilitat.
• Reflexionar sobre com potenciar el moviment maker a la comarca
• Share information and knowledge about the possibilities of the spaces makers to enhance social dynamism, digital literacy and economic development based on sustainability.
• Reflect on how to promote the movement maker in the region
ORGANITZADORS DE LA JORNADA/ ORGANIZERS OF THE DAY
• CONSELL COMARCAL DEL VALLÈS OCCIDENTAL
• UNIVERSITAT AUTÒNOMA DE BARCELONA
• AJUNTAMENT DE SABADELL
• GENERALITAT DE CATALUNYA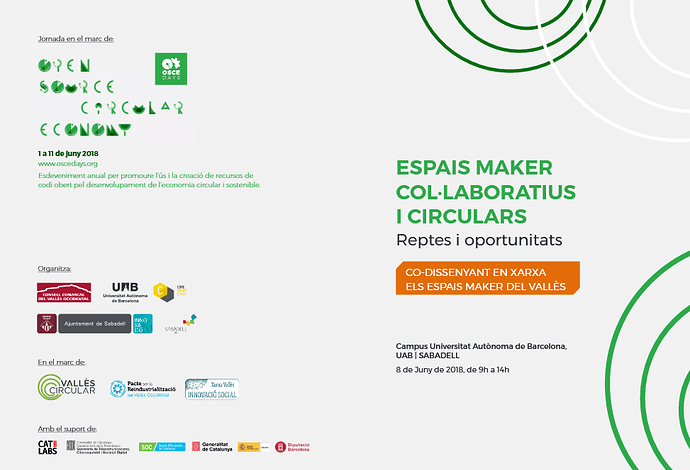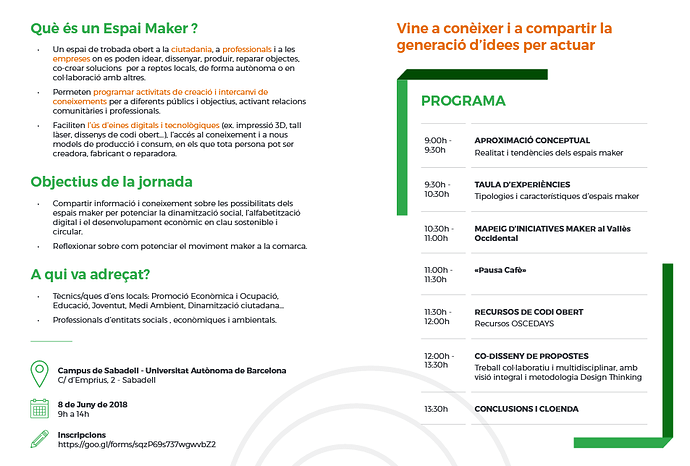 Inscripcion en el següent enllaç: