Korjaussarja (Repair Kit) is a collective offering remedy for consumerism hangover. Most importantly, we encourage to love the clothes you already have instead of buying new ones. Take care, maintain, mend, fix and make love!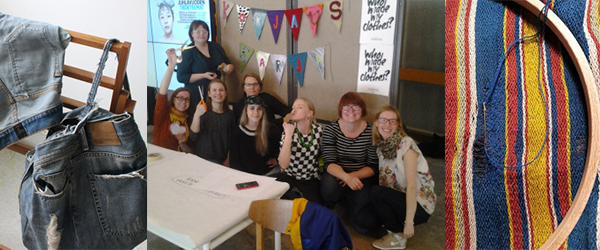 Don't know what to do with loose buttons, unraveled wool socks or ripped seams in clothes? Don't you worry! Vaatehuoltoasema, or Clothing Care Station, is a walk-in workshop by Korjaussarja where you can learn mending, darning, sewing, hemming & repairing. We offer advice, help and support. We have a good range of tools for repairing: a sewing machine, needles, yarns, scissors and some embellishments. All you have to do is get your broken clothes and drop by at our station in Tiivistämö on Saturday 13th June from 12-15 and/or share your upcycling ideas here!
We need
Materials – old clothes, textiles, bags, other materials that need to be fixed/tuned.
A Challenge
We want to find new great ideas for fixing, taking care and maintaining our textiles. How can we get to 0 textile waste?
More information about Korjaussarja here (in Finnish).