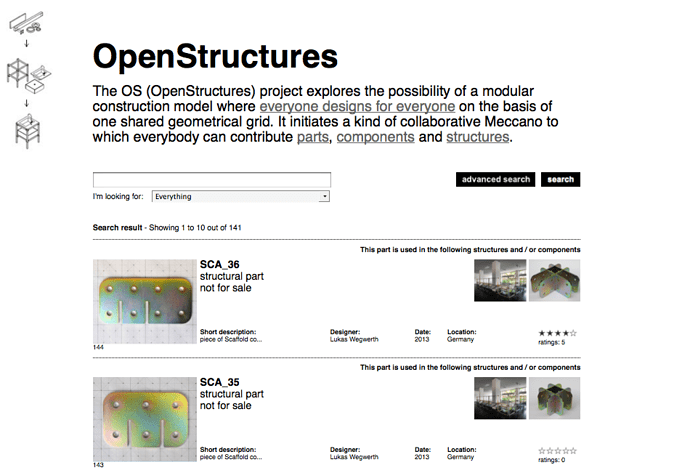 screenshot open structures cataglogue
#Summary
The Challenge is about brainstorming and developing a business model for the open structures project. Open Structures is presumably a perfect opportunity for a successful and easy to understand circular open source hardware platform.
#Background
The open structures project is a brilliant project that raises a lot of questions and possibilities. The project is around for a while now but still seems to be in an very early development stage when it comes to the business side. We welcome this as a blank page and an opportunity to brainstorm a possible future for this project. And learn about and discuss interesting business models for a circular economy.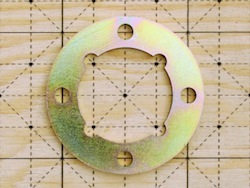 an open structures part
#Challenge & Process
We aim to discuss a potential business model including a business development plan for the open structures project. It is a hypothetically task, an exercise. But our ideas and findings will be presented online and sent to the people running the project. We will try to bring them in also.
We think, that OpenStructures might be a perfect case, to explain how a system that is open source, decentralized and circular economy fit can work on the business side. Hopefully we can find something that can then inspire a lot of other cases.
The challenge will last around 3 hours. Right now we are:
@Lars2i
@Alice_audrey
@cameralibre
+
and we are happy if you join us in Berlin.
##Documentation
PAD: To allow participants to document this challenge in real-time, a collaborative Etherpad document has been set up here:
https://pad.oscedays.org/p/berlin_business-models-for-open-structures
FOLDER: To store and share documents, photos and other files relating to this challenge, please upload them to this challenge's cloud folder:
http://is.gd/businessmodels_openstructures
##Join us online!
You can join the challenge also online. Contribute thoughts, questions or resources upfront or afterwards. Post to this thread.
##Some questions to think about:
How can a project like this and people who are contributing desings to it sustain themselves (financially)?
How do you think, the future of this project could/should look like?
How can commercial/business powers be used/triggerd/motivated to adapt the OS system and platform and contribute to it?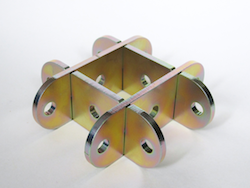 an open structures component
#Resources
Some links and resources:
Early work done #1: I had an early brainstorming session about this already. I wrote down ideas – it is a sketch! But you can study it here.
Work done #2: We had a discussion about open vs. closed in regard of the open structures project. An ecosystem like that can only grow if it is open. I share some excerpts from that conversation here.
Product as a Platform: Open source is often about building ecosystems, networks that work like mushrooms. And Open Structures might become a perfect example of this in the hardware world! And the growth of that ecosystem could happen because of the circular potential of it! Read a little more about Product as a Platform & Ecosystems here:
_
Images by Lukas Wegwerth, CC-BY-SA