i sent you and invitation.
Also, from 20 to 31 March we will carry out this action as an academic exercise at the Pontificia Universidad Javeriana in Bogota, Colombia, the idea is to develop products with a theme (which may be technologies for the elimination of poverty, or Which help to develop sustainable development goals) with a group of 60 people.
We would like you to participate and accompany this process, either by evaluating the ideas, guiding and explaining the goal of an OSCE product, or helping the students to develop their concepts.
@iwess @Lars2i @transitionmaike @Silvia … @BoST
Hello everyone. In March I will carry out an academic work of my sustainable design course for the university: a 2 week workshop in which I proposed to the students to develop the prototipes within this activity MOD RE CO and following the parameters of this Circular product activity.
For the development of the activity and help to unify the presentation a little, i create for the students a list and a format with the minimum parameters that must be presented and taken into account in the proposal.
To help visualize the OSCED network and hear other voices on the subject, I would like to propose to each one of you, to record a very short video about what OSCED is, why consider that a modular product can be positive for a more open economy and a mayor Sustainable impact and finally invite them to continue to propose projects of this type and actively participate in the OSCE days. Maximum 1 minute (I would like it to be live but because of the problems that are normally presented in the university network, I think it would be better by this means).
On the other hand, if you want, i invite you to evaluate the projects on the last day of the workshop and give them their particular vision on the work of each proposal, which remained on the OSCED platform. (this can be by hangouts)
Many thanks
This are the parameters of the ACTION MOD - RE - CO Academic Version to be held from 27 March to 7 April during an academic work in the course of sustainable design of the Pontificia Universidad Javeriana in Bogotá.
We invite you to participate by helping to evaluate the projects and also to make comments that allow students to improve the prototypes and concepts developed.
the documents for the description of the activitie and the documentation are these two:
documentacion mod re co.pdf (347.5 KB)
MOD RE CO Workshop.pdf (2.2 MB)

How? Where? Everyone in the OSCED community? Will this be in English (my Spanish is marginal)?
For all in the community, will be in english, in Colombia we will work in a class from university called, Sustainable Design. we will be conected and document all the activities from march 27 to april 7. All the community was invited to participate, evaluate, give feedback and help or participate with the students to develop the activity.
This is now added to the OSCEdays website

Work carried out in the subject of sustainable design of the Javeriana university
MARIO GOMEZ - CAMILA RUANO - MARIA CAMILA LEAL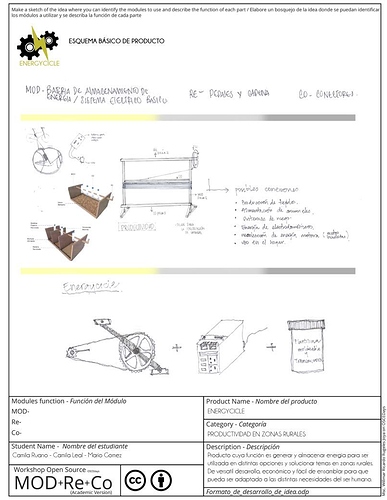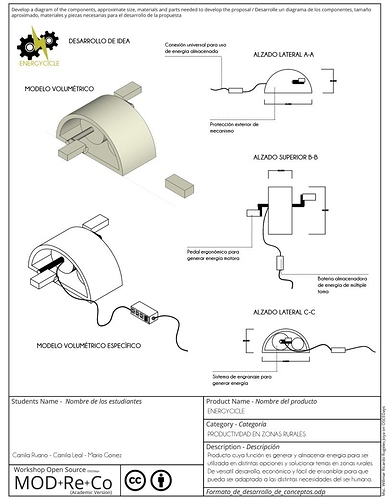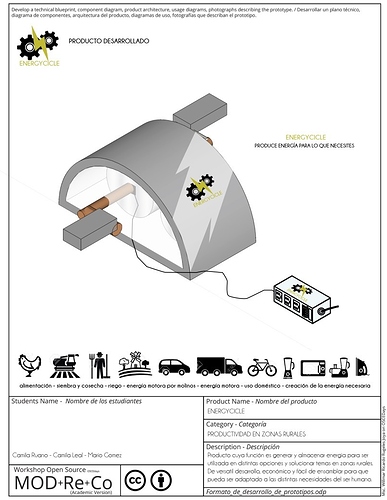 Hello, we are
BLUEGREEN.
An interdisciplinary team developing Decomposit.
This is a container with two compartments destined to process household waste through crushing. This turns the residue of the organic material into compost and the plastic elements into plástic filaments that can be later on used or recycled.
BLUEGREEN.pdf (1.9 MB)
Hello we are
LUMINA
members: Daniela Rojas, Camila Guerrero, Yuly castro y Laura Daza
Category: lighting
Product name: T- Angulo
Description: Modular system that works from solar light, cosnta of a solar panel that will be located in the external part of the infrastructure, a rechargeable base that is located in the internal part of the infrastructure and the movable light modules.
ECO - TABLE
Coffee table for rooms or studios where you will find a variety of plants to decorate the space, made by modules that allow the table to be assembled in different ways
María Elvira Ortega, María Alejandra Roldán, Camila Cardozo, Cristhian Lagos, María Juliana Cortes, Oscar Rios, Alejandro Benavides.

Hi my group name is: Jardineros
The product we are developing is: Integrated garden kit
Description: The product consists of a kit, through which people living in rural homes, will be able to find the tools and solutions that will allow them to have a system of irrigation of their plants, orchard, or whatever they have in the garden, through Of a system of recollection of rainwater distributing the collection in the desired way and in the moments that you want. In addition, the kit has a tool that can vary its function according to the purpose to be sought, for this has different parts that fit the base of the tool. Finally, it also has a container through which you can transport the fertilizer that can be cultivated with the irrigation system that protects and maintains optimal conditions for growth, transportation of garden supplies, plants, etc.
MOD RE CO Planwa.pdf (914.8 KB)
MOD RE CO (2).pdf (2.8 MB)
Group: Jardineros
Product Carergory: Garden
Names:
Juliana Hernández
Sara Builes
Maria Camila Burgos
Juanita Lopez
Emma Fernandez
Vytautas Norkevicius
Hello we are Water collection
Members: Natalia Melo and Michelle Ariza
Category: Water collection
Description: This is a system that collects water waste from bathtubs in an apartment building and transports them to a filter in order to reuse water for cleaning the social area and watering the garden plants.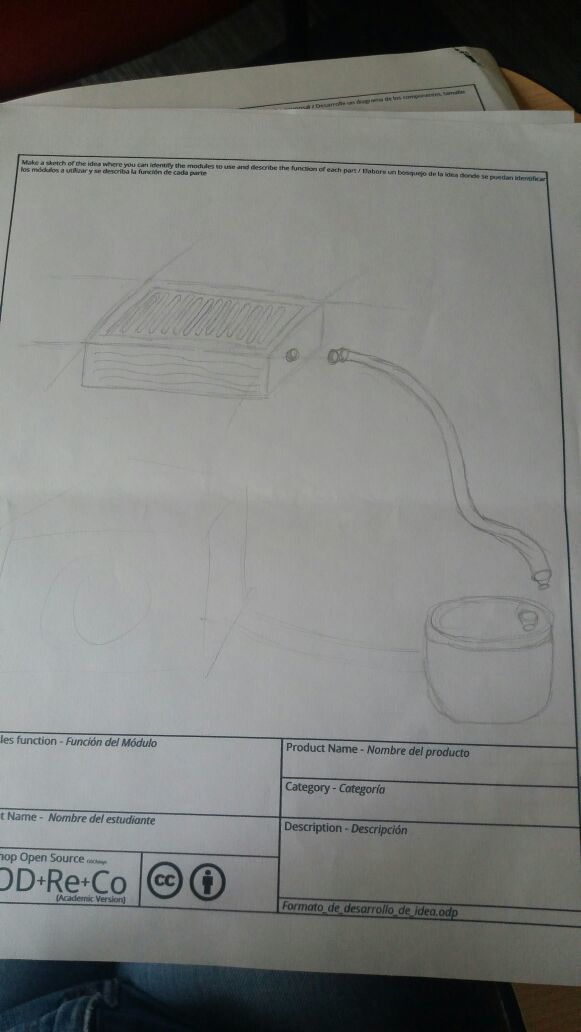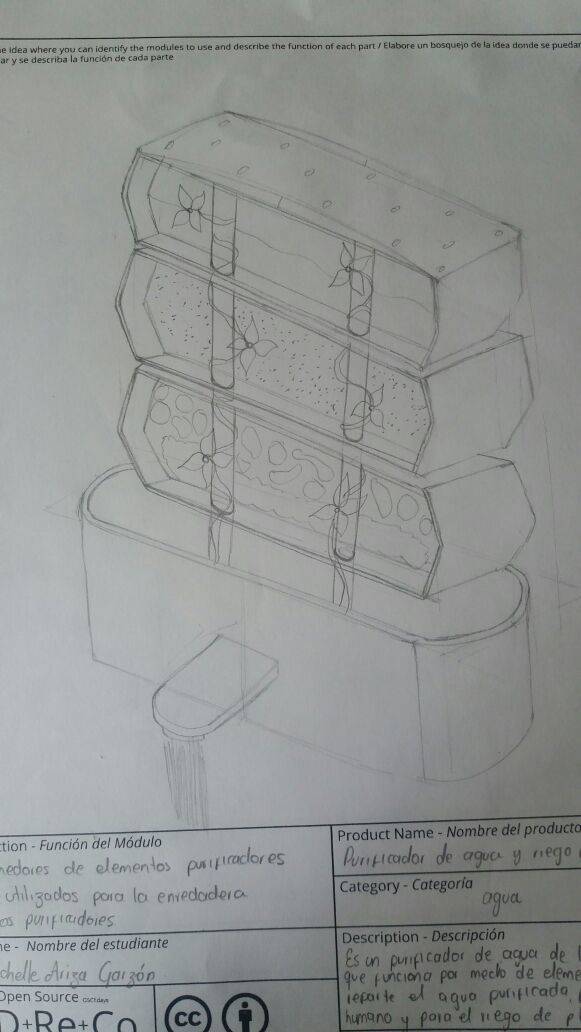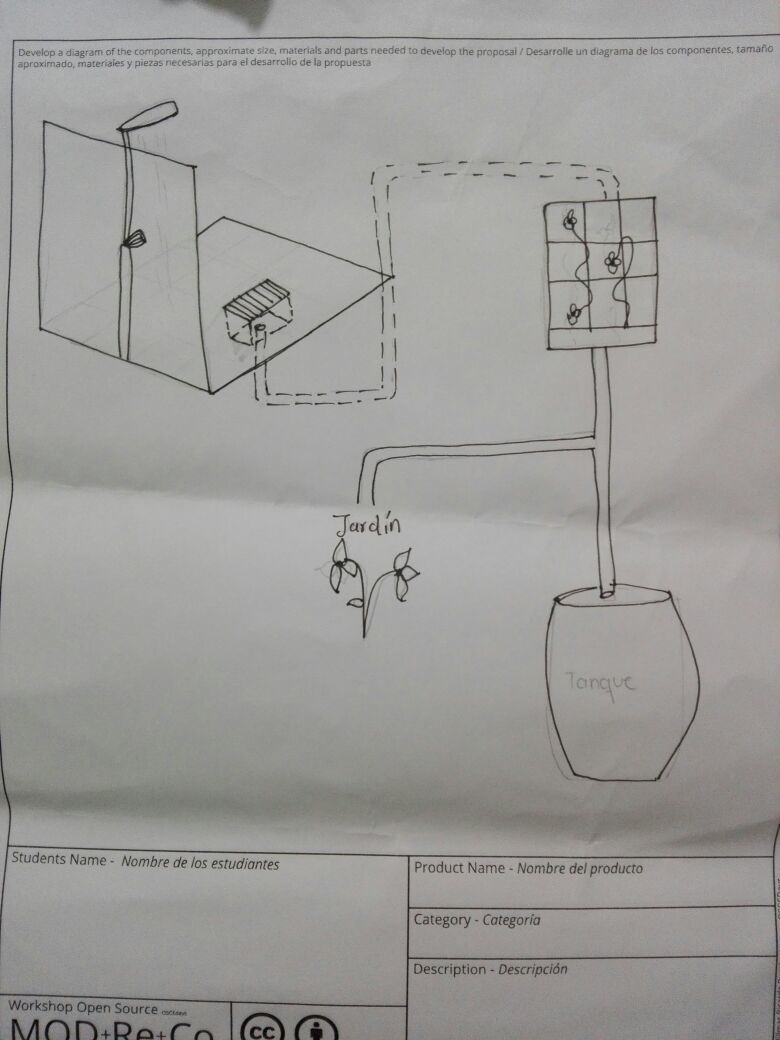 Group: Mambre
Product Category: Kitchen
Names:
-Ana María Vargas
-Mariana Marta
-María Daniela Villamil Rojas
-Paola Suárez
-Diana
-Elena Jara
Description: This is a stove that has multiple functions: one is the water filter that works with a small mesh and another is the compartments that has to store some food. Depending what is the function, the system is going to change according to the needs of the person.

Hello I am María Paula UrbinaBEAV Mod re co.pdf (3.7 MB)
The product name is BEAV
Category - Bird feed
Description - Is a modular bird drinker, adapted to any type of poultry, using three main modules that use different materials of low cost.