The Rubbish Diet and The People's Design Lab present their challenge - Trust is not a waste.
Let's share what works and create new ways of increasing people's trust and engagement in the circular economy.
Trust is not a Waste
● Key challenger: The Rubbish Diet & The People's Design Lab
● Challenge reviewers & insight: WRAP, Keep Britain Tidy
● Themes: Transparency, trust, engagement
Problem Statement/Ideal Situation
We need an empowered public, awakened and educated to make pro-environmental choices, who can purchase circular designs through proper information on purchasing, product/ system choices, life extension routines and disposal.
Currently the general public often have little faith, understanding or connectedness with the important (and powerful role) they play in our waste and resource system as the "consumer". They do not see themselves as a key link and influencer in our supply chain and product based economy nor understand the power they have through their everyday purchases and actions, like recycling. The public can find it difficult and overwhelming to consider what's behind the product in their hands - the resources, supply chains, environmental considerations and final disposal routes.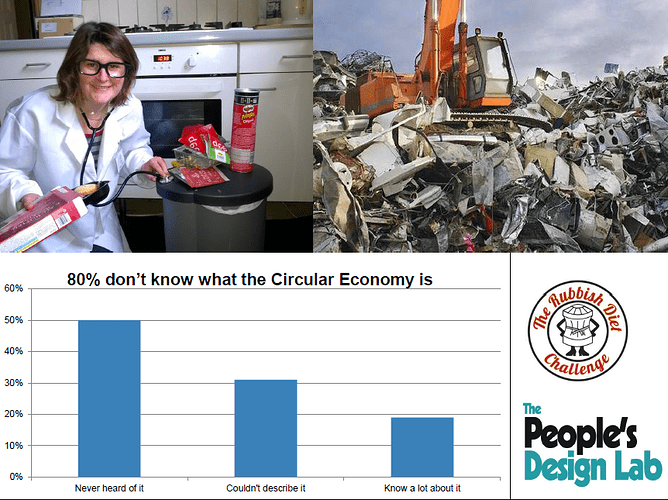 Envisioned outcomes
We would like to encourage open and accessible, engaging methods and communication that supports greater trust and engagement and action to explore all levels of the waste hierarchy/ the circular economy in lifestyles.
For example:-
❖ Making clear the resources, social and environmental impacts embedded in products
❖ Mapping and use of waste flow data to give better feedback
❖ Connecting recycling to recycled products
Constraints
● Limited resources/ money
● Available data
Motivations/Barriers
● Increased environmental/ social considerations in everyday life
● Feelings of greater empowerment
● Feelings of greater trust in the system and a willingness to help improve ( as well as question)
Users
Who should the results, approach, solution be aimed at/ for?
Primary: General Public, Local Authorities
Secondary: Waste & Resource providers, manufacturers (recycled and recyclable goods)
Partners/ Key Stakeholders
Who may be good to lead, link up, engage with to use communicate, fund?
● Local Authorities, GLA, WRAP, Chartered Institute of Waste Management, Keep Britain Tidy (Waste Watch),