###UPDATE
Check out the new resource on this question especially made for OSCEdays - A Video Series + A Tool To Work With on: Open Source Business Models for Circular Economy.
First Video out of 9
---
##Some Resources on Open Source Business Models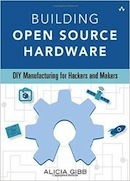 "When it comes to Open Source the one of the first questions popping into peoples minds is 'How to make money with that?' - indeed: 'You can't make money being open' is a common criticism of Open Source. And while true in a few cases, in many cases it's just the opposite. There are many opportunities to work better and more effectively through an open approach. Open Source is very often an ideal strategy for developing a more innovative, financially successful and sustainable business, where money can be made not DESPITE being open but in fact BECAUSE you are open.
But of course this isn't a case of just changing a license and carrying on with business as usual – open strategies require certain adjustments to the a company's business model – sometimes minor alterations, sometimes transformative change.
Only few adptions are needed when the core business remains almost untouched by the openness – a bakery, a glazier's or carpentry workshop etc. – it is not a monopoly on information that sells the product but factors like quality of the craft, marketing, location etc. (…) But there are also areas where openness asks for fundamental changes to the business model. When you stop relying on "intellectual property", trade secrets and intransparency, you must engage in other collaboration patterns and unlock other sources for financial income. There's a growing number of companies and Business Models using the possibilities and potential of openness to optimise the production and sales of physical products." quote source (Open It Agency)
#Resources (Links)
On Business Models For Open Source Hardware
8 Ways to Make a Living with Open Source Hardware (by Mathilde Berchon/Making Society – Focused on Makers)
#Challenges
There might be some challenges about this question! One is already there. More might come.
QUESTIONS, COMMENTS, MORE SOURCES, EXAMPLES? Please share